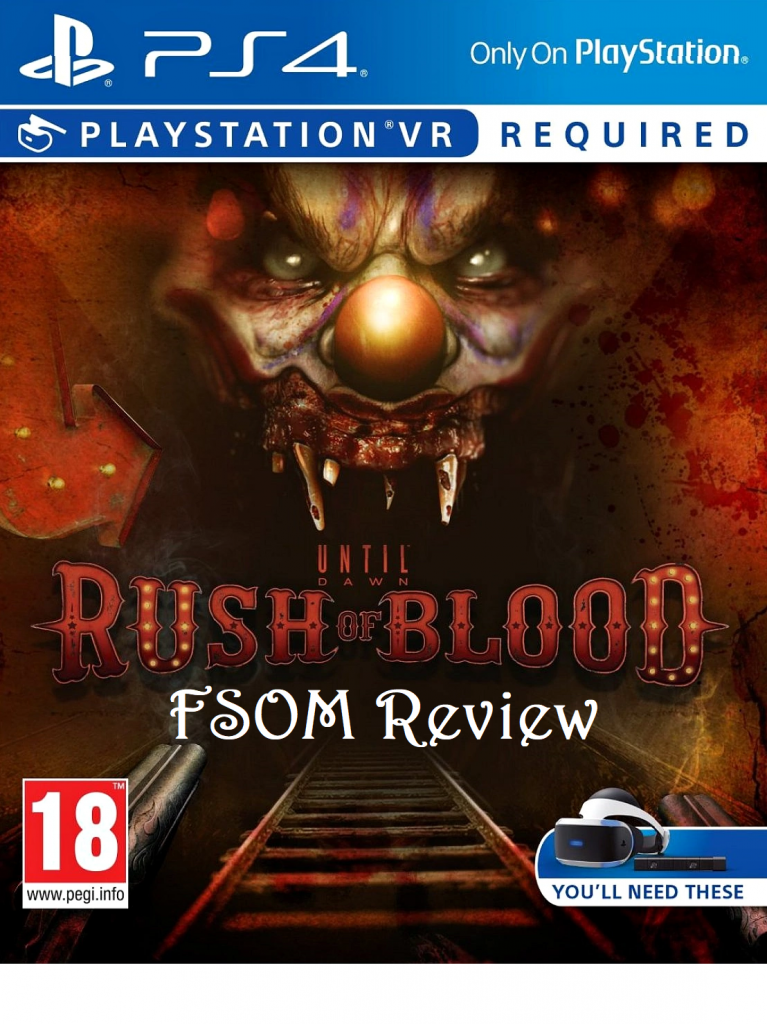 Mijn 80ste Ultra Rare Platinum is binnen! Nog 20 te gaan om mijn doelstelling voor 2019 te halen. Spoilers ahead!

Until Dawn Rush of Blood VR Plat #929 (1,62% Psnprofiles / 0,1% Playstation)
Geestelijk gekraakt
In de kern is deze Rush of Blood een spin-off op de cinematografische horrorgame van Supermassive Games: Until Dawn met Hayden Panettiere en Rami Malek. De premisse is eigenlijk interessanter én enger dan het moederspel zelf dat aaneenhing van de genre-clichés. Josh, die zijn pesterige vrienden wou beetnemen met een serie buitensporige pranks, bleek geestelijk gekraakt te zijn door de dood van zijn zusjes. Dat psychologisch thema wordt hier verder uitgediept.
En wat een gekke shit gebeurt er toch allemaal in het hoofd van deze getroebleerde tiener. Het begint allemaal met een onschuldig kermislevel maar al snel ontaardt deze 2 uur durende game in een soort catalogus van de meest angstaanjagende fobieën.
Misplaatste veiligheid
Vanuit de misplaatste veiligheid van een karretje baan je je een weg door 7 verschillende levels. Een dikke pluim voor de hoge accuraatheid van de Move-controllers. Deze zorgt namelijk voor een hoogst aangenaam ritje. Je hoeft zelfs niet eens rechtsstaand te spelen zoals in de meeste VR games.
Om de Plat te bemachtigen, droop het stresszweet echter van mijn voorhoofd. Psychotic difficulty is geen lachertje. Je krijgt maar één leven en de spinnen, etalagepoppen, raven en andere hersenschimmen zijn meedogenloos. 1 keer op een verkeerd moment je wapen herladen of je target missen en je bent eraan voor de moeite. Gelukkig kan je tussen de levels door je vooruitgang saven op een USB-stick.
Conclusie
Rush of Blood is één van de leukste en meest uitdagende Virtual Reality games die ik gespeeld heb. En dat vanop je luie zetel.
Als je Move controllers hebt, speelt het als een droom. De Platinum kan dan wel weer eens een nachtmerrie worden.
Het ideale spel om boven te halen als je nieuwsgierige niet-gamers eens de stuipen op het lijf wilt jagen. Haal die videocamera maar boven!
Dit artikel is geschreven door: FfredericC Vergeet niet om FSOM te volgen op Facebook, Instagram, Pinterest!
Instagram.com/ps4photomode_ffredericc
Meer lezen van FfredericC? Check snel onderstaande artikelen!

Wolfenstein Youngblood voorzien van een releasedatum!
Far Cry New Dawn – de FfredericC Review
Metro Exodus – Review
Moss PlayStation VR – Review


Please follow and like us: